How Often To Replace Roof
When it comes to owning a home, there are a lot of maintenance and repair responsibilities. Keep in mind that not everything breaks down at the same time and you might want to put money aside in the event of a major repair need. One of the many areas that break down in a home is the roof. Roofing materials have a variety of lifespans based on the materials that are used to create them. Wondering how often to replace a roof? A roof can last between 15 and 30 years. In most cases, a roof is replaced only when damage has occurred.
Let's take a look below at some more information regarding roofing materials.
How Would I Know If My Roof Is Damaged?
Damage to your roof can occur in a variety of ways. Having a roof inspection conducted with some pictures can give you a reference point as to what damage might have occurred to your roof. Let's take a look below at the obvious signs a roof should be replaced or repaired.
Outside damage – Repairing or replacing any exterior damage to the roof is necessary for keeping the lifespan of the roof. If there is major damage, you will want to replace the roof entirely.
Light exposure – Holes in the ceiling that allow light to get into the attic or other areas of the home require immediate repairs or replacement.
Chimney – When the flashing and other seals around your chimney are no longer intact you will need to repair the areas around the chimney to keep water from leaking into your home. The moment you see signs of water damage you should call on a reputable roofing contractor.
Saggy or Drooping spots – A roof inspection should be conducted in this case. Any saggy roof or drooping has structural damage to the roof decking and the roof shingles are surely broken down.
Greenhouse – If you have a greenhouse and have moss growth, mold, or mildew growing on the roof you will need to clean the roof surface. Additionally, if the damage is extensive you should look to replace the roof.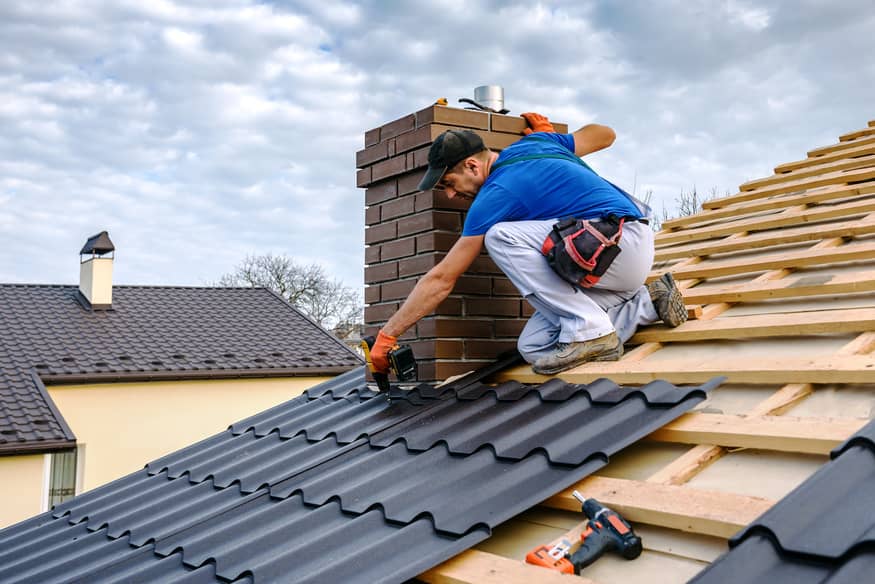 What Are The Lifespans For Each Type Of Roof Materials?
Areas that affect a roof's lifespan are determined by the materials that are used on the new roof and storm damage. Let's take a look below at the types of roofing materials and how long they should last.
Metal – Metal roofs can last up to 50 years or more. They are designed to reflect the energy of the sun and keep your home cooler. Also, they are good at surviving high winds.
Wood Shakes – Wood shake roofs will typically last between 35 and 40 years. These materials are thicker than a shingle roof and more resilient to weather and UV Rays.
Slate – A slate roof can last 100 years or longer. It is the most durable material used on a roof. However, the maintenance and installation of the roof must be done properly for the roof to last.
Asphalt – The 3-tabbed shingled roof will last between 15 and 20 years. Architectural asphalt shingles stand up better to tough outdoor weather conditions.
Wood – Wood shingles can last between 25 years and 30 years. Maintenance on these shingles will ensure that they last longer. Wood shingles are not the same as asphalt material shingles.
Clay or Cement Tiles – Clay or Concrete tile roofs can last between 50 and 100 years. This type of roof is very resilient and very heavy.
How Much Do They Cost?
Replacing your roof will vary in cost. The materials used, the contractor hired, and the size of the roof will determine how much you will pay. You can count on paying an average of $8,000 to $15,000 for a new shingled roof. Additionally, if you select a shingled roof, you will pay between $20,000 and $30,000. Metal roofs cost $5 to $15 per square foot. Consequently, you will pay $35,000 for a metal roof.
Other Recommended Maintenance
Now that you know how often you should replace a roof, you can read up on how long it should take to install a new roof. This allows you to plan your day as you decide who is going to be home from work to supervise the roofing replacement.
Next, it is a great idea to study up on a roof inspection checklist. When your home inspection team comes out you will want to know what they are inspecting. Having a checklist allows you to follow along with what occurs during the inspection.
Lastly, if you choose to have a metal roof installed and want to know how the panels are cut, read up on how to cut metal roofing materials. This allows you to supervise the contractor as they measure and cut your metal roofing sheets.
When Do I Call A Professional?
Hiring the right roofing contractor takes some research by the homeowner. You will want to get multiple quotes to see who has a competitive price and examples to show you of their work. The roofing contractor that you hire will need to have knowledge of the building codes in your area. Also, call on your local home inspection team. They can inspect the roof and determine the type of damage that has occurred to your roof. Additionally, they can offer up some reputable contractors.
Conclusion
Getting your roof replaced in a timely manner is a necessity. Although it is never a fun project to watch, many roofing contractors have crews that work fairly quickly. Depending on the size of your roof, and the materials that you have chosen for installation determine how quickly the roof will get installed. Call on your local home inspection team to get your roof inspected before you blindly hire a roofing contractor. Reach out to Advantage Inspections to have your roof inspected during a full home inspection here in West Central, Florida.
https://advantageinspectionsfl.com/wp-content/uploads/2023/06/new_roof_replacement_25.jpeg
711
947
Logan Burns
https://d1dy77v5epf6w1.cloudfront.net/wp-content/uploads/sites/205/2021/09/14172521/logo.png
Logan Burns
2023-06-02 13:13:45
2023-06-02 19:04:09
How Often To Replace Roof